Rwanda Safaris – Africa's finest Safari Destinations
Rwanda Safaris and Packages – Africa's finest Safari Destinations. The small country takes up only 26,338 km² and has a population of over 12 million people. Rwanda is located in central-eastern Africa and is landlocked between Uganda, the Democratic Republic of the Congo, Tanzania, and Burundi. The climate is tropical with two rainy seasons that occur from February to June and September to December. The average temperature ranges from 19C to 27C.
In addition to its beautiful scenery, Rwanda offers many opportunities for adventure. Hiking through the Virunga Volcanoes or Nyungwe Forest will leave you in awe of Rwanda's natural beauty. You can also visit the Akagera National Park and see lions, hippos, elephants, and other wildlife.
A trip to Rwanda isn't complete without learning about its past history during the Rwandan Genocide in 1994 at Kigali Memorial Centre. This museum pays tribute to those who lost their lives during this horrific time period when violence broke out between ethnic groups in Rwanda. You can also learn about Rwanda's history by visiting the National Museum of Rwanda or Nyanza Royal Palace Museum which houses cultural artifacts from the pre-colonial era through modern times. If you're looking for an adventure unlike any other, look no further than Rwanda.
Rwanda is one of the most beautiful countries on the African continent, and it has plenty to offer in terms of scenery and wildlife. From the Volcanoes National Park to Nyungwe Forest National Park, you will encounter all types of interesting flora and fauna, including over a hundred different bird species!
At Africa Reveal Safaris, we believe in the power of nature and adventure to change lives, which is why we've put together the most incredible safari experience in all of Africa.
When you travel to Rwanda with us, you'll see some of the world's most beautiful landscapes, including shorelines, volcanoes, forests, islands, and savannas. You'll get an up-close look at the country's vibrant culture, which includes traditional drums and music, and clothing that can only be found in Rwanda. And you'll meet the country's people—some of the friendliest and happiest on earth.
But that's not all. You'll also have a chance to see some of the world's most amazing wildlife—including elephants, zebras, giraffes, and gorillas—in their natural habitat. And along with your friends at Africa Reveal Safaris you'll get more than just a glimpse of these animals—you'll understand them like never before, and you'll leave with a newfound appreciation for the beauty of our world and its inhabitants.
Rwanda is a country that I never knew existed until I arrived. The first thing that struck me as we landed in Kigali was the weather. It was hot and muggy, much like what you would expect to find in most tropical countries. But Rwanda didn't feel like a typical tropical country. Maybe it was because people were dressed in suits, or because the roads were so clean that you could see your reflection. Maybe it was because everyone seemed to be smiling and waving, or maybe it's because there are hills everywhere!
After checking into our hotel and grabbing some lunch, we headed out on our first adventure: a visit to the Kigali Genocide Memorial Center. This site serves as a memorial for those who perished during the 1994 genocide. It also serves as an education center where visitors can learn about what happened during this time period and how to prevent it from happening again.
I found myself standing next to a young man who was holding his infant daughter. He told us that he remembers being just five years old when he witnessed his mother being killed by soldiers right before his eyes… Story Narrated by Tumwesigye Julius MD Africa Reveal Safaris LTD
Rwanda Safaris and Packages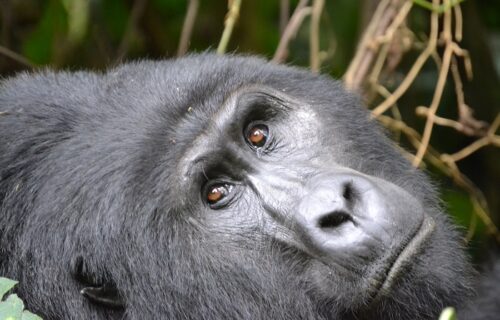 8 Days Uganda Rwanda Safari tailor-made Tour combines two East African countries bringing you the best experience from the African savannah, wildlife, and the enchanting rainforest jungle. Learn More