Ngorongoro Conservation Area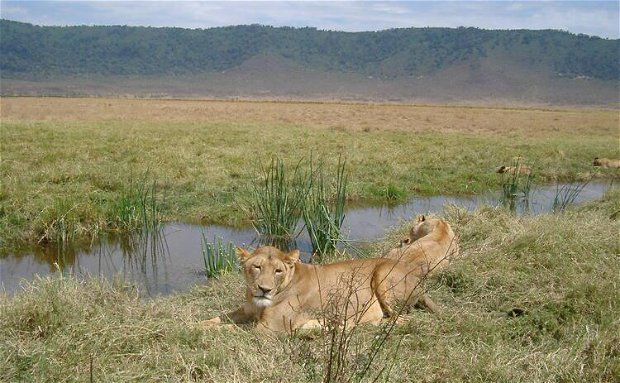 The Ngorongoro conservation area is the most densely populated wildlife area in the world, the diversity of animal species in the Ngorongoro crater is exceptional with high wild concentration including all the big five. An estimated 25,000 animals live on the crater floor. With a diameter of 17-21 kilometers and an area of ​​approximately 260 km2.
The Ngorongoro Conservation Area spreads over vast expanses of highland plains, savanna grassland, savanna woodlands and forests which conserves biodiversity..
The Ngorongoro Conservation Area (NCA) is a UNESCO world heritage site and covers a vast expanse of highland area that has stood alone as a protected region since 1959. The NCA is nearly 8,300 km2 and contains several volcanic craters, an active volcano, Tanzania's third highest peak and the world's largest intact caldera. (Ngorongoro)
The area is named after Ngorongoro Crater, a large volcanic caldera within the area. The name of the crater has an onomatopoeic origin; it was named by the Maasai pastoralists after the sound produced by the cowbell (ngoro ngoro). Based on fossil evidence found at the Olduvai Gorge, various hominid species have occupied the area for 3 million years.
The Ngorongoro crater is famous for being the world's largest inactive, intact and unfilled volcanic caldera, extends to about 610 meters deep with its floor covering up to 260 square kilometers and is the largest in the world. The Ngorongoro crater was created by an eruption that probably took place 2 to 3 million years ago.
The Ngorongoro Conservation Area also protects Oldupai or Olduvai Gorges, situated in the plains area. It is considered to be the seat of humanity after the discovery of the earliest known specimens of the human genus, Homo habilis as well as early hominidae, such as Paranthropus boisei
The Olduvai Gorge is a steep-sided ravine in the Great Rift Valley, which stretches along eastern Africa. Olduvai is in the eastern Serengeti Plains in northern Tanzania and is about 50 kilometers (31 mi) long.
It lies in the rain shadow of the Ngorongoro highlands and is the driest part of the region. The gorge is named after 'Oldupaai', the Maasai word for the wild sisal plant, Sansevieria. It is one of the most important archaeological sites in the world, which was under the direction of Dr. Louis and Mary leakey.