Volcanoes National Park Rwanda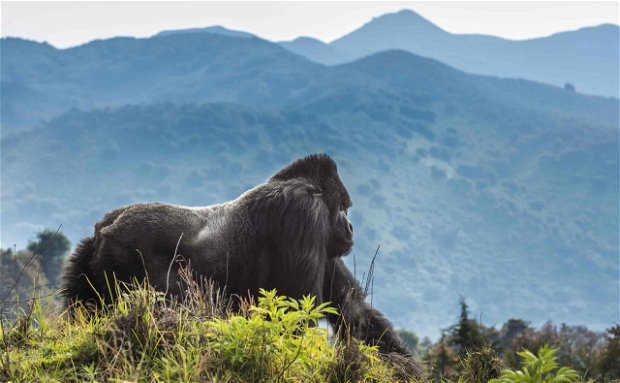 Volcanoes National Park is Rwanda's top safari destination popular for inhabiting mountain gorillas. The park is found in the northwestern part of Rwanda within the Virunga volcanoes. It covers 5 of the 8 volcanoes of the Virunga Mountains and these are Karisimbi, Bisoke, Muhabura, Gahinga and Sabyinyo.
The park was made popular worldwide by the Dian Fossey activities in the park which contributed a lot to international interest in the conservation of the mountain gorillas. It covers 160 square kilometers (62 sq. miles) of rainforest. The park borders Virunga National Park of Congo and Mgahinga Gorilla National Park of Uganda also covering part of the Virunga Mountains. The Volcanoes National Park is also unique in a way that it is home to two rare primate species which are the golden monkeys and mountain gorillas.
In 1925, the park was first gazetted as a small area bounded by Karisimbi, Bisoke and Mikeno with an intention of protecting mountain gorillas from poachers. It was later on in 1929 expanded and went through a series of reductions for human settlement.
In 1967 American naturalist Dian Fossey arrived in Rwanda and set up Karisoke Research centre between Karisimbi and visoke where she spent a lot of time studying the gorillas and brought their plight to the attention of the international community. Though she was murdered by unknown assailants in 1985 she is still very much credited for championing to save the rare mountain gorillas, a story of her life that was later on portrayed in a film named Gorillas in the Mist. She was buried within the park near the research centre and gorillas that she loved a lot, her burial place can be visited during a gorilla safari in Rwanda.
How to get to Volcanoes National Park
It is just a two hours' drive from Rwanda's capital Kigali to Volcanoes National Park. This makes it the closet gorilla habitat from an international Airport. By road, the easiest way of getting to the park is through Musanze either by private or public means of transport.
The most reliable way is by booking private car transport through a Rwanda gorilla safari company. Most of the visitors going to Volcanoes National Park arrive in the country through Kigali International Airport which is 10km from the Kigali capital. 
For public means one should note that there isn't public means of transport between Musanze and the park headquarters. There are no scheduled flights from the Kigali International Airport to Volcanoes National Park, however, Akagera Aviation does offer charter helicopter transfers. 
Activities to do in Volcanoes National Park
When planning any form of Rwanda tour, Volcanoes National Park is surely one of the destinations that tops many itineraries. Wondering what much can be done in the park, here are the attractions and activities/ things to do in Volcanoes National Park;
Mountain Gorilla Trekking
It is popular that mountain gorillas are the major draw card for Rwanda tours. Volcanoes National Park is blessed to be habitat of the rare mountain gorillas that are known to be few in number and also only found in the three African countries of Rwanda, Congo and Uganda. There are 12 habituated mountain gorilla families in the Volcanoes National Park that are open for trekking. Each group or gorilla family goes through a series of habituation processes before it is opened for gorilla trekking as a way of making them accustomed to human presence. The fact that the gorillas are used to the presence of humans makes gorilla trekking safe to undertake. To undertake a gorilla trekking trip, all intending trekkers who earlier on purchased permits are expected at the park headquarters by 7am local time. Therefore ensure to have spent the night near the park.
At the park headquarters, you receive a briefing on the gorilla trekking etiquette in Rwanda for a great elaboration of the dos and don'ts of the activity. After briefing, a total of 8 individuals are allocated a ranger guide who is armed to take them through the trek and ensure their protection.
When you get into the jungle, the experience is amazing as you walk through the tropical forest with bamboo through the trails. When you reach the forest, your guide will give all the needed information. You spend a maximum of 1 hour watching the gorilla family go about its daily life and display the amazing "human like" characters. During this time you experience what many refer to as a lifetime primate tracking experience. After the trek, you return to the park headquarters for debriefing and departure. Each Rwanda gorilla trekking permit is US$ 1500. Only persons under the age of 15 are allowed to go gorilla trekking.
Golden Monkey Tracking
Golden monkeys are another special kind of monkeys within the Volcanoes National Park. They live in the bamboo and amaze those who take time to track them.
They are golden-orange with a coat that makes them very colorful to sight. Golden monkeys live in groups and are very playful, you will surely see how they leap around the bamboo trees. Golden monkey tracking starts at 7:00 am just like gorilla trekking. Habituation has helped them overcome their shyness and therefore making it easy to track and see them in the forest. 
There are two groups of golden monkeys in Volcanoes National Park each with about 50 to 60 individuals. The whole trekking experience takes about 4 hours with a trek to and from. Ensure to have pre booked a permit and attend a short briefing at the park headquarters by 7 am. Finding the golden monkeys isn't hard as they are territorial and then to stay in the same area of the park. Ensure to have your camera ready to take photos of these fast monkeys as they playfully leap around. 
Birding
Volcanoes National Park has about 180 recorded bird species that offer good birding. There are also the park's special birds that can be spotted including the 16 Albertine Rift endemics which include the handsome francolin, Ruwenzori turaco, Rwenzori batis, Ruwenzori double-collared sunbird and Archer's robin-chat.
Other bird species in the park include the Baglafecht weaver, Bateleur, Blue-spotted wood dove, Cinnamon-chested bee-eater, Red-backed shrike, and many more. Birders can take advantage of the best time to visit the park to combine gorilla trekking and bird watching. 
Volcanoes National Park is surely one great park to explore within this land of a thousand hills. All the activities in the park can be undertaken during a short tour or as part of a tailor made trip in Rwanda.