Semuliki National Park Uganda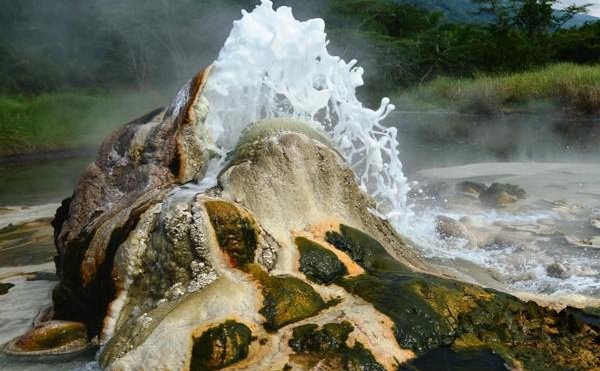 Though a less popular Uganda safari national park, Semuliki National Park is one remote park to explore especially for birders. Semuliki National Park is near the border with the Democratic Republic of Congo and of the huge lturi forest.
Its remoteness makes it a superb home for birds many of these species you cannot find on the beaten path. Semuliki Park also boasts of being centered in one of Africa's most ancient and bio-diverse forests which means it offers a real jungle experience in a natural habitat that is unique and rare to get.
At first glance, the scenery may seem bleak to the eye. The forests are not as lush as other regions but this is where you will find several national hot springs that bubble away softly.
The Semuliki hot springs are the most popular and scenic hot springs in Uganda with a lot of amazing history on their formation. There are also salt deposits much favored by surrounding wildlife.
Semuliki National Park lies along with the main Fort Portal to Bundibugyo road, 52 km from Fort Portal which makes it accessible by road especially by tourists having a western Uganda circuit trip. The road that connects to the park can become treacherous after heavy rains, so the best times to sightsee or undertake any activity in the park would be during the fairly dry season which is between July-August and December to February.
Attractions in Semuliki National Park Uganda
There is less to do in the park as compared to other destinations, however, the birders will have a great experience exploring the old age forest.
Birdlife in Semuliki
Best described as the birder's haven, Semuliki is one of the richest areas for forest birds in Africa,  with over 420 species recorded, including the freckled & black-shouldered nightjars, buff-spotted flufftail, African wood owl, African goshawk, red-thighed sparrow hawks, intermediate heron, and Northern red bishop among others. Semuliki is best suited for hikers who can take the trails and delight in seeing such bird species as the red-billed helmet shrike and the long-tailed hawk. Birders can explore the park and tick off several bird species from their Uganda birding safari desired bird list.
Hot springs
The Sempaya hot springs in Semuliki National Park have high temperatures of up to 100 degrees Celsius. With the strength and hotness of the springs, it portrays the strength of the geographical forces underground that form the spectacular hot springs seen above. There is a female and male hot spring in the park and these have a connotation of their formation that led to their naming. Legend has it that the male hot spring was formed when a man disappeared within that area and the female after his wife followed to look for him and also disappeared. Plantain and eggs can be boiled with the temperatures of these hot spring waters.
Wildlife in Semuliki
Within the Semuliki National Park are a few animals, however, the beautiful Toro Semuliki Wildlife Reserve lies on the southern shores of Lake Albert and offers a mosaic of different habitats with some excellent birding opportunities. It is also a miniature version of the Congo River, and the forest is home to numerous Central African wildlife species, including primates, reptiles, and antelopes. Smaller forest and larger savanna elephants are regularly seen in the reserve. Other animals in the park include the Buffalo, Waterbucks, Warthogs, elusive Bushbabies, and Uganda Kob.
Campsites and accommodation facilities for travelers visiting the park can be got from within the park and hotels/lodges in the surrounding towns of Fort Portal and Bundibugyo. These accommodation facilities are a great offer for all tourists with packages including those suitable for budget/basic, mid-range/ standard, and luxury/upmarket clients. Semuliki is also a campers' haven, where the trappings of civilization are almost non-existent.