Mount Elgon National Park Uganda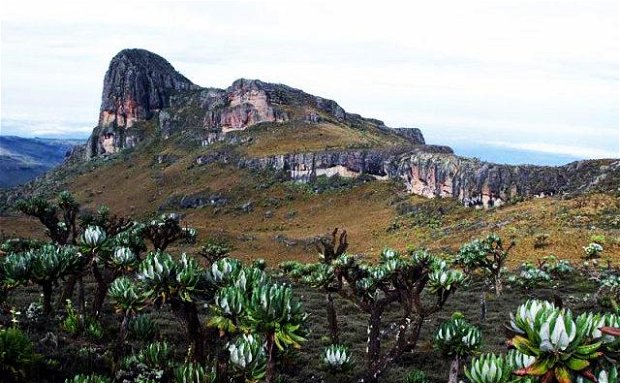 Situated on the border between Kenya and Uganda, Mount Elgon National Park has the largest surface area of an extinct volcano in the world and a caldera that covers over 40 square kilometers.
Mount Elgon National Park is within the transboundary of Mount Elgon with the highest peak, Wagagai at 4,321m above sea level.
This is the second-highest peak in Uganda after Mountain Rwenzori and the eighth highest in the African continent.
Mount Elgon National Park covers 1,110 square kilometers. It was gazette in 1992.
The slopes of the Mountain support a rich variety of vegetation ranging from montane forest to high open moorland studded with the giant lobelia and groundsel plants varying with altitude.
The best time to visit Mount Elgon National Park is during the months of June to August and December to March when it is the dry season. During this time the climate is favorable for visitors to the park as temperatures are warm making the high altitude easier to hike. During the dry season, there are fewer chances of rain, however, it does not guarantee that it will not rain.
To get to Mount Elgon National Park, tourists can access the park by, especially road transport. It is about 416 kilometers from the park from Entebbe International Airport which is Uganda's only international airport. From Uganda's capital Kampala, it is about 341 kilometers. The park can also be accessed from any other part of the country including after or before visits to other tourist sites.
Attractions/Activities in Mount Elgon National Park
When planning to visit Uganda's Mount Elgon National Park, tourists may wonder what actually is found in the park that makes it worth visiting. Here is what to see and do on a visit to the Mount Elgon National Park of Uganda.
Mountain climbing/hiking
Mount Elgon with the highest peak at 4,321m above sea level is the second-highest mountain in Uganda and climbing the volcano must be a top priority for any hiker especially one who desires to have a hike at a not very high altitude.
It is an exciting option with less strenuous climbs compared to any hiking destinations in East Africa. The climate in the area is also milder which makes acclimatization easier and therefore hiking much safer for hikers who suffer from the effects of acclimatization. The much-added advantage with hiking Mount Elgon is that with the lower altitude and milder climate, no special equipment or technical experience is required.
There are several trails that can be used to access the Mount Elgon peak of Wagagai each posing different difficulties with a various number of days to hike each trail to and from. These are sasa trail (4 days), the Sipi trail (6 days), and the Piswa trail (7 days). There are also very many other short walks that can be undertaken by tourists around the mountain slopes including short day hikes.
Bird watching
Mount Elgon I home to at least 144 bird species. Special interest birds on the mountain include Jackson's spurfowl, eastern bronze naped pigeon, Hartlaub's turaco, Tacazze sunbird, and the endangered lammergeyer. This is because of their restricted range.
There's not much wildlife in the park, however, wildlife like elephants and buffaloes can be seen in the explorable caves as they come especially in night to lick the natural salt found on the cave walls
On top of the flora and Fauna on Mount Elgon National Park, the park has a variety of scenery which includes cliffs, caves, waterfalls, gorges, mesas, calderas, hot springs, and mountain peaks.