Mgahinga Gorilla National Park Uganda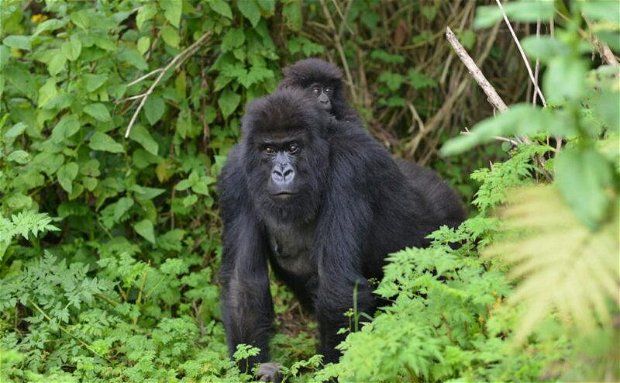 Mgahinga Gorilla National Park's natural habitat to a family of mountain gorillas sits high in the clouds, at an altitude of between 2000 and just over 4000 meters. As its name suggests, it was created to protect the rare mountain gorillas that inhabit its dense forests. At the southwest tip of Uganda is the living tapestry of Mgahinga Gorilla National Park.
lt is composed of steep terraced hills that bewilder the eye. At just over 4000 meters in height, the muhavura dominates the skyline around Kisoro district.
It seems to be brooding about bygone days when it was an active volcano that helped to define the landscape of the region. There is an air of mysticism surrounding muhavura complemented by the mist that often covers its summit.
Mgahinga is also an important habitat for the endangered golden monkey.
Mgahinga's most striking features are its three conical, extinct volcanoes (Gahinga, Sbyinyo, and Muhabura) which are part of the spectacular Virunga Range that lies along the border region of the part of Uganda, the Democratic Republic of Congo, and Rwanda.
Mgahinga forms part of the much larger Virunga conservation area which includes adjacent parks of Volcanoes National Park in Rwanda and Virunga National Park in Congo.
Activities in Mgahinga Gorilla National Park
With the great scenery that offers wonderfully spectacular views, there are amazing primate tracking and bird watching experiences that tourists can undertake in the park.
Gorilla tracking in Mgahinga
With a well-habituated mountain gorilla family known as Nyakagezi gorilla group, Mgahinga Gorilla National Park offers one the greatest yet less strenuous gorilla trekking experiences. It is a humbling experience to be in the presence of the rare mountain gorillas, they are after all humankind's closest cousins after bonobos.
Gorillas can climb trees but are usually found on the ground in communities of up to 30 individuals. The social life of the mountain gorillas is very much similar to that of humans which makes watching them intriguing.
You require a permit to track gorillas in Mgahinga and may have to book well in advance to have the encounter.
Golden Monkey tracking
Mgahinga is such a unique park as it hosts both mountain gorillas and golden monkeys. This is why it is referred to as "where gold meets silver" because the silverback mountain gorillas co-exist with the golden monkeys.
These can also be tracked during a planned golden monkey trekking experience where tourists get a chance to see these very active yet beautiful primates. The golden monkeys are a very playful species of monkeys that delight to watch as they leap through the bamboo in the park.
Bird watching
Mgahinga is also a great destination for bird watching with over 180 bird species that have been recorded and several are localized forest birds. There are 12 bird species that have been recorded as endemic to the Albertine Rift restricted to living within these areas. During a bird watching trip in the park, birders get an opportunity to tick off some Afro-alpine endemics such as the scarlet-tufted malachite sunbird, African paradise flycatcher, Black kite, Cape robin-chat, Pin-tailed whydah, speckled mousebird, African olive pigeon, Alpine swift, Archer's robin-chat, Blue-headed coucal, Dusky Crimsonwing, Olive woodpecker, Ruwenzori batis, Ruwenzori nightjar, Ruwenzori turaco, and many more. Migratory birds are present from November to April.
Hiking
Mgahinga's most striking features being the three conical, extinct volcanoes, it is a great hiking destination. The slopes contain various ecosystems and are biologically diverse with their peaks providing a striking backdrop to this gorgeous scenery.
Hiking in Mgahinga offers such great altitude experiences as the hike isn't very much strenuous and within a great backdrop. On the hike, you can also have an experience of stepping foot on the border of three countries; Uganda, Rwanda, and Congo on a single hike.
Community tourism in Mgahinga
The Mgahinga area is largely occupied by bafumbira but traces of batwa also exist within Mgahinga Park, as evidenced by the ngarama Batwa cave. The batwa are still the guardians of the forest. It was their former home until 1992 when it was designated a national park. You will also find their settlements in Kisoro district around the Mgahinga National Park. These communities can be visited for a cultural tour experience for a highlight of how the Batwa lived in the forest and how they are living their daily lives now.