Lake Manyara National Park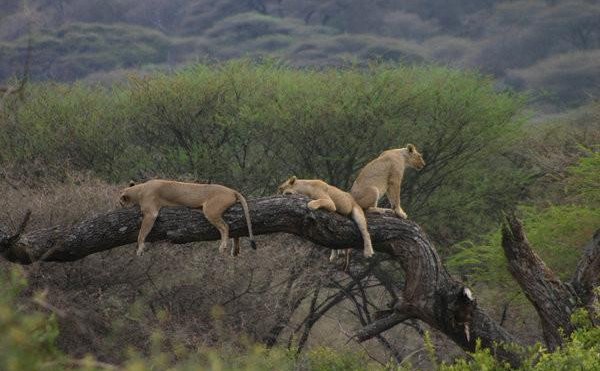 Lake Manyara National park is one of the smaller parks in Tanzania with a total area of about 330sq km. Lake Manyara national park is located in the rift valley. During the green seasons; two thirds of the park is normally covered by the water from the lake. Lake Manyara is famous for its great diversity of birds and the black tree climbing lions, habituated baboons and large elephants.
Lake Manyara regularly turns pink due to the thousands of flamingos that are attracted by the lake's algae.
Lake Manyara National Park  Attractions 
Lake Manyara national park is the most favorable for bird watching. The shores of the lake, encrusted with pink flamingo, attract more than 400 species of birds, many of them waterfowl or migrants.
The national park also accommodates more species of wild life such as buffalo, cheetah, Masai giraffe and the impalas that roam around the lake shores and the forested valley slopes.
Lake Manyara is also well known for offering a groundwater forest with acacia tortilis woodland and hot springs known as maji moto. 
The rift valley escarpment that was formed about 22 to 25 years ago is a stunning beauty that will leave you amazed. The rift valley stretches to about 400 meters deep, and provides a unique landscape where many animals roam around. 
Best time to visit Lake Manyara National Park
The best months of the year to visit the park for a Tanzania tour is during the dry season in the months with the lowest rainfall. These are the months of July, August and September which are the driest months of the year and the warmest months that are January, February and March. These months have the lowest average number of rainy days as well as the highest average high temperature. 
There are two rainy seasons with the short rains from November to December and the long rains from March to May. The wettest month with the highest rainfall is April with the highest number of rainy days. During the rainy season it is not recommended to undertake tours to Lake Manyara National Park since wildlife viewing isn't that amazing with the weather disrupting viewing and photography.