Hell's Gate National Park Kenya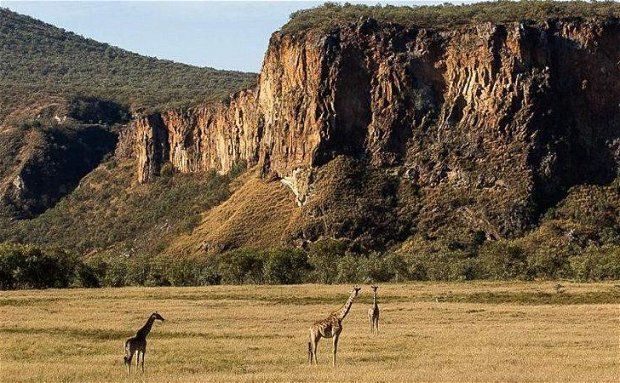 Kenya is a country of stunning natural beauty and Hell's Gate National Park isn't an exception as its part of the wildlife reserves. Hell's Gate National Park is situated south of Lake Naivasha in Kenya, North West of Nairobi the country's capital.
The park was established in 1984. Hell's Gate National Park is named after a narrow break in the cliffs, once a tributary of a prehistoric lake that fed early humans in the Rift Valley. It was named so by explorers Fisher and Thomson in 1883.
The park is relatively small according to African national park standards, it covers an area of about 68.25 square kilometers (26 sq. mi). In altitude the park raises up to 1,900 meters (6,200 ft.) above sea level.
This is also one of the most atmospheric Parks in Africa with the towering cliffs, water-gouged gorges, stark rock towers, scrub clad volcanoes and belching plumes of geothermal steam.
Hell's Gate National Park is known for its wide variety of wildlife and for its scenery including Fischer's Tower, central tower columns and Hell's Gate Gorge. Hell's Gate Gorge is lined with red cliffs which contain two volcanic plugs, off of Central Tower is a smaller gorge which extends to the south, with a path that descends into hot springs that have rocks hot enough to cause burns and sulfuric water.
A visit to the park is cheaper because it is near Nairobi and also has lowered park fees compared to other Kenya national parks. With its proximity to the capital of Nairobi, the park is ideal for day trips
Wildlife 
There is a wide variety of wildlife in Hell's Gate National Park, though few in number. Some of the animals seen in the park include African buffalo, zebra, eland, hartebeest, Thomson's gazelle, hyena and baboon are common. The park also hosts the serval and small numbers of klipspringer antelope and Chandler's mountain reedbuck. There are unusual game drives inside the park 
Birds
Over 100 bird species are found in the park and these include but are not limited to vultures, augur buzzard, Verreaux's eagles, swifts and many more. Birders can enjoy the parks prolific bird life within this very scenic environment.
Culture
There is a Maasai Cultural Centre in the park that provides education about the Maasai tribe's culture and traditions. The Maasai people also serve as guides in the park. It is advisable to have a guide through the park which makes it easy to know about the whole area and keep safe. When visiting the water gouged gorge it is recommended to go with a guide since its risky. 
Hell's Gate National Park does not have very dangerous animals and therefore, it is possible for visitors to go cycling through the park. Bicycles can be rented or taken into the park at a fair cost. Though cycling and walks in the park are allowed, visitors should also be cautious. 
Some of the other activities that can be done in Hell's Gate National Park include hiking, bicycling, motorcycling, boating on Lake Naivasha and camping. The park has three basic campsites and camping is safe in the park even though there are no fences between you and wildlife. For accommodation, there are several lodges around the park especially around Lake Naivasha. The lake is popular for watersports, bird and game viewing and walks along Crescent Island.