Bwindi Impenetrable National Park Uganda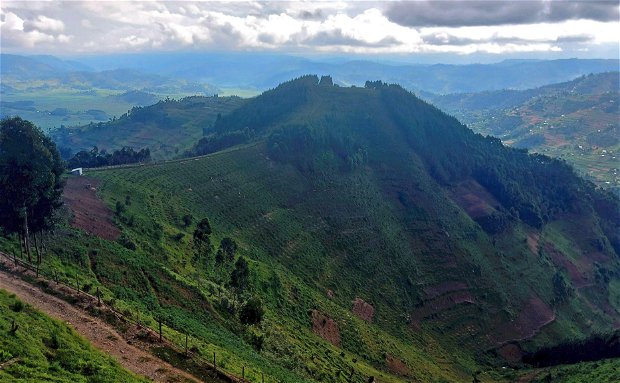 Bwindi Impenetrable National Park is one of UNESCO`s heritage sites best known for mountain gorillas mostly explored during the gorilla tracking safari tours. Bwindi is one of the few national parks in Africa to have flourished throughout the last Ice Age and it is home to roughly half of the world's mountain gorillas.
Bwindi Impenetrable National Park
Bwindi Impenetrable National Park
The Bwindi Impenetrable National Park is Uganda's top gorilla trekking destination being a natural habitat that hosts the highest population of the rare mountain gorillas. The Bwindi forest has both habituated and wild gorilla populations with about 19 families well habituated to suit the gorilla trekking experience requirements and some reserved for gorilla habituation purposes.
Uganda has the best chance of viewing these delightful apes with the fact that it boasts two parks where they have been habituated for human visits that are; the Mgahinga Gorilla and Bwindi Impenetrable National Parks which harbor over half of the remaining world mountain gorillas.
Located at the southwest corner of Uganda, Bwindi impenetrable forest together with the Mgahinga region are believed to inhabit more than half of the remaining mountain gorillas on earth. That's why they're an endangered species under 24-hour protection.
The variant biodiversity is supported by the fact that Bwindi is extremely old and also its slopes extend over a broad altitudinal range of 1447m above sea level, enabling habitats ranging from lowland forest to Afromontane vegetation.
The distance between Kampala and Bwindi is 415 km and the estimated transit time is between 6-8 hours by road. The park can also be accessed by air using an aircraft that transfers travelers from either Entebbe International Airport or Kajjansi airstrip to one of the 4 airstrips around the park.
Good and affordable accommodation is also available on the slopes of the mountain and neighboring towns like Kasese plus camping sites on the mountain slopes. Accommodation is available for luxury, mid-range as well as budget, or basic travelers from any part of the globe.
What to do in Bwindi Impenetrable National Park
Being a world heritage site, the park is totally unique and inhabits an elusive population of apes that can be explored during these activities;
Gorilla Tracking
Gorilla Trekking Safari to Bwindi
Without a doubt, one of the world's greatest wildlife experiences is the thrill of a close encounter with the reclusive mountain gorillas in their natural habitat. You can track gorillas in Uganda with a gorilla permit, at a slow as US$ 700.
Mountain gorilla trekking offers a traveler a chance to spend a maximum of 1 hour within the habitat and share an experience like no other within the habitat of these mountain gorillas.
During the gorilla trekking trip, the experience includes a hike through a dense jungle, seeing the mountain gorillas go about their daily life as they interact in very amazing ways.
Gorilla habituation
Seeing mountain gorillas is such a memorable experience where tourists may need to spend much more time with these gentle giants, however, when one wants to spend more time with the apes then mountain gorilla habituation is available.
Gorilla habituation is a process of taking the gorillas through a process of getting used to the presence of human beings and therefore they require more time. Tourists who go for habituation experiences spend 4 hours with the almost still wild gorillas which gives them an insight into the gorilla lifestyle before they get used to living around humans.
Birding in Bwindi
This rainforest also offers some of the finest montane forest birding experiences in Africa and is a key destination for many birders visiting the pearl of Africa. Bwindi offers some of the finest montane forest birding in Africa as a key destination for birders, with over 400 species, including; Western Green Tinkerbird, Chestnut-throated Apalises, White-browed Crombec, Woodland Warbler, African Hill Babbler, etc.
Amongst the numerous possibilities are no fewer than 23 of Uganda's 24 Albertine Rift endemics including spectacular, globally threatened species such as Shelley's Crimson Wing and the African Green Broadbill.
BWINDI IMPENETRABLE NATIONAL PARK
Bwindi Impenetrable National Park is one of the national parks in Uganda that are rich in nature. The park has different sectors with variety of flora and fauna to offer.
Come explore and experience the affluent Buhoma Sector (pioneer of Gorilla Trekking Activity), Nkuringo Sector, Rushaga Sector and Ruhija Sector. All the four sectors are opulently known for Gorilla Trekking, Nature walks, Water fall Trails, Birding, and Community walks with Batwa Experiences.
Things to Know about Gorilla Trekking.
What is Gorilla Trekking?
Gorilla Trekking can simply be defined as a hike to the Virunga Mountains to see gorillas in their natural habitat, get exposed to their life style, and learn about their history of how they came into existence.
What is a Gorilla Permit?
A gorilla Permit is a card issued by Uganda Wildlife Authority to allow you access the National parks to trek Gorillas. In Uganda, you can trek Gorillas in Bwindi Impenetrable National Park and Mgahinga National Park.
How much is a Gorilla Trekking Permit in Uganda?
In Uganda, a standard /Normal gorilla trekking permit costs 700USD per person and a Gorilla Habituation Permit goes for 1500USD per person. It is always recommended that you book your gorilla permit 3 months prior to your trekking date.
Only persons above 15years are eligible for this activity. The Gorilla permits are only sourced from UWA (Uganda wildlife Authority) head offices in Kampala. Africa Reveal safaris is eligible to source for you this permit at a sourcing fee of 30USD per permit.
What is the difference between Gorilla Trekking and Gorilla Habituation?
Gorilla Habituation can simply be defined as a human controlled process of training mountain gorillas to live amongst human beings.
The process of habituation takes researches a period of 2 to 3 years to confirm that the Gorillas are fully habituated and the families are open for tourists to visit. Travelers are assured of safety because at this point these beautiful apes are not aggressive.
The experience grants visitors 4 hours of full interaction with the Gorillas.
While the Normal gorilla Trekking allows only one hour of experience with the gorillas upon spotting them.
Is it hard to Trek Gorillas in Uganda?
Trekking Gorillas in Uganda is a bit challenging because it involves hiking through thick vegetation where some have thick thorns, passing through difficult terrain, hiking hills and valleys. This activity requires fitness and only persons above the age of 15 are allowed to take on the activity.
The old persons are always supported by our 4×4 fleets (Specifically Land cruisers) to get you as close as they can to the terrains. If exhausted with the hikes, there are 'African helicopters' available to carry you back to the vehicle spot. There is always an extra cost charged (ranging from 50$ to 100$).
What do I need to trek Gorillas in Uganda?
Besides having the gorilla permit that helps you access the park, please be aware that Gorillas are only found in the Virungas.
This means that the rainforests surrounding in and out the park are subjective to weather changes anytime. Treks to see gorillas are often challenging and hectic during the rainy seasons. The terrains are always slippery, muddy and steep.
While packing your luggage for travel, please include the following;
Heavy boot shoes and the most recommended ones are the water proofed.
Carry along rain coats/jackets. However these can also be hired at the UWA (Uganda wildlife authority) offices at a less cost.
Long sleeve shirts and trousers are recommended. Along the hiking path are some biting insects, thorns. You therefore need to take caution of that!
Carry your sun screen because the park is subjective to weather changes.
Walking sticks will be provided to you on the day of trekking. This act as ground support while hike. They are always at a cost of 15$ per person.