Our Blog

East African Travel Stories and Inspiration
Mountain Gorilla Trekking & Gorilla Habituation Experience Uganda
Posted on Thu May 6, 2021.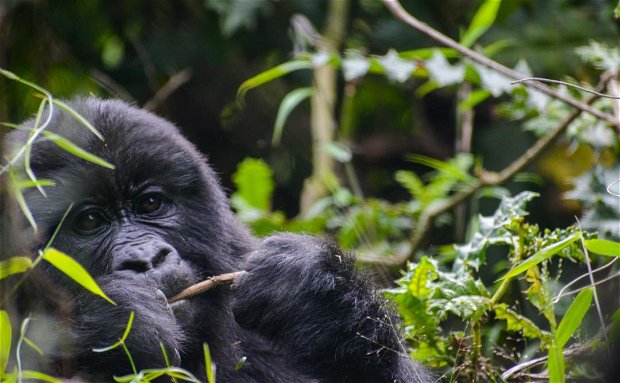 Gorilla Trekking is one of the best experiences you can encounter when you visit Uganda the "Pearl of Africa"
Uganda is one of the three only places you can find the mountain climbing gorillas, many people like visiting the country to join trekking tours where they can view these amazing apes. They are special creatures, and before you go to Uganda, you should research and learn as much as you can about them.
Mountain gorillas do not survive in captivity. The gorillas you've encountered in zoos are most likely from the lowlands of western Africa. The mountain climbing gorillas can only be found in the high, forested mountains of the African countries of Rwanda, Uganda and the Democratic Republic of Congo.(Bwindi Impenetrable National Park Uganda, Volcanoes National Park Rwanda, Vuringa, Goma, Kahuzi Birga and Garamba National Park in Congo are best known for Mountain Gorilla populations and gorilla tracking. )
In Uganda, there are 4 locations for tracking gorillas in Bwindi National Park; these are Buhoma, Ruhija, Rushaga, and Nkuringo. The 4 locations have a total of about 19 families as of today carrying half of the world's population.
While at the gorilla look out (gorilla trekking), it requires much strength since its navigating up and downhill through thick tangles of vines, thorns, and roots. Bwindi Impenetrable Forest National Park is only accessible by foot.
Mountain Gorillas in Bwindi impenetrable national park tend to be more shy and gentle than violent. However, if they feel disturbed and threatened, these gorillas can become aggressive, beating their chests while grunting and roaring.
A male Gorilla is responsible for the protection of its family (Silver Back) and also a mother gorilla will fight to the death if she feels her baby is threatened. These gorillas live in groups of 5 to 30 individuals made up of an alpha male with several females and their infants or juvenile offspring.
When a male reaches the age of breeding (15 years), he will strike out on his own, taking some females with him to begin his own family. Here are some families of the Gorillas;
Habinyanja Gorilla Family also located in Buhoma –Bwindi. This family is comprised of 17 members
Mubare Gorilla Family. Its location is Buhoma in Bwindi. It consists of 8 members currently.
Rushegura Gorilla Family located in Buhoma – Bwindi. It has 19 members inclusive of one silver back.
Oruzogo Gorilla Family is also located in Ruhija – Bwindi with 25 individuals inclusive of two silver backs. The leader of the group is called Tibirikwata.
Nkuringo Gorilla Family. This family is in Nkuringo –Bwindi with a total number of 19 individuals.
Nshongi Gorilla Family found in Rushaga – Bwindi with 26 individuals and 4 silver backs.
Mishaya Gorilla Family in Rushaga – Bwindi with 12 individuals
Kahungye Gorilla Family found in Rushaga –Bwindi with 13 members and 3silver backs.
Bweza Gorilla Family in Rushaga –Bwindi with 9 members and is led by Bweza.
Bitukura Gorilla Family. This family is found in Ruhija – Bwindi with 14 individuals and 3 silver backs. Its group leader is called Ndahura.
Busingye Gorilla Family is in Rushaga –Bwindi. It consists of 9 members and is led by Busingye after separating from the Kahungye family in 2012.
Kyaguriro Gorilla Family is found in Ruhija. It consists of 15 members led by Rukina who grabbed power from the old Zeus.
Nyakagezi Gorilla Family is found in Mgahinga. The family consists of 10 members led by mark the dominant silver back.
The lifespan of a mountain gorilla is approximately 40 to 50 years old. Male gorillas are considered mature when they begin to breed around the age of 15 and during this time, they are called black-backs. As they grow older, the black hair on their backs turns silver, giving them the name "silverback."
A fact about the Female gorillas in Bwindi Impenetrable National Park is that they become sexually mature much earlier than the males. Most female Gorillas will give birth at the age of ten and usually give birth to single babies but can occasionally produce twins. A baby gorilla is often nursed and reared for up to six years.
The mountain gorilla groups travel a few kilometers every day searching for food. They rarely stay in one place and that's why there are park rangers who always communicate through local voice transmittable devices to trace where they are eating from every single day.
Visitors interested to conduct this activity in Uganda need to book a safari with a Reputable Travel company like Africa Reveal Safaris Ltd that helps in sourcing Gorilla Tracking permits from Uganda Wildlife Authority throughout the year. These permits need to be bought prior to tracking dates and can also be paid for up to two years in upfront.
While at Bwindi Impenetrable National Park, only 8 visitors are allowed to view the gorillas for one hour per day, participants must be aged 15 or over and they will be accompanied by Uganda Wildlife Authority guides while with the Gorillas.
Tracking the gorillas can last from a few hours to a whole day, depending on how far the group has moved since it was observed nesting up the previous evening by the rangers.
Gorilla Habituation Experience in Uganda
There are 19 habituated gorilla families that are open to Gorilla trekking in Bwindi impenetrable national park. These habituated gorilla families are located in four different sectors that include Ruhija, Buhoma, Nkuringo, and Rushaga sectors.
Seeing mountain gorillas is such a memorable experience where tourists may need to spend much more time with these gentle giants, however, when one wants to spend more time with the apes then mountain gorilla habituation is available.
Gorilla habituation is a process of taking the gorillas through a process of getting used to the presence of human beings and therefore they require more time.
Tourists who go for habituation experiences spend 4 hours with the almost still wild gorillas which gives them an insight of the gorilla lifestyle before they get used to living around people.
It involves different groups of people like the trackers, conservationists, trackers, researchers and rangers among others who take a period of about 2 to 3 years completing this habituation experience.
It is a learning experience that has just recently become a stable activity presented by the Uganda Wildlife Authority on a small scale. This experience only restricts the persons to a maximum of 4 each day, thus bookings for this kind of activity are to be done 6 months prior to the actual habituation day specifically during the months of December all through to March and July to October.