Our Blog

East African Travel Stories and Inspiration
Golden Monkeys in Uganda
Posted on Tue May 18, 2021.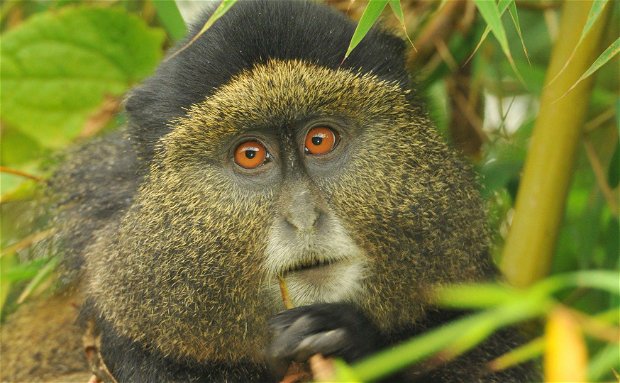 Golden monkeys can only be found in Mgahinga national park –Uganda and Volcanoes national park in Rwanda. The Golden monkey also scientifically known as Cercopithecus mitis kandti is one of Uganda's 20 primate species most visited by tourists. It is found in Mgahinga Gorilla National park which is part of the Virunga Mountains where it is endemic.
Mgahinga national park is situated in the south western part of Uganda in Kisoro District. It was established in 1991 and governed by Uganda Wildlife Authority. It is the smallest of the 3 Virunga conservation areas covering 33.9kilo meters squared. The other two are the Virunga Park and Volcanoes national park in Rwanda. The park hosts  over 39 mammals and 79 bird species including the Golden Monkeys, Mountain Gorillas, elephants, buffalos among others.
Golden monkeys got this name from their uniqueness in appearance with a gorgeous golden hair mixed with orange. The Golden monkeys are also classed as endangered because they are only found in Virungas and are small and so fast in movement.
The bamboo vegetation harbors these primates in the park. There are over 4000 individuals of Golden monkeys and also feed on a variety of seasonal fruits especially during the dry seasons, lichens, sprouts, leaves, bamboo etc.
One of the qualities that makes monkeys and other primates so fascinating is that they often live in complex social webs with relationships and bonds that can be reminiscent of those of humans. As for Golden monkeys, they usually live in troops of 30-80 individuals.
They have been known to live in smaller groups of only a few individuals. Out of this group, there is usually only one male. The females tend to guard one territorial region while the males may mate and then travel pack-to-pack. Given the opportunity to live out its natural life span.  The Golden monkey will live for up to 20 years.
A female golden monkey takes five months of gestation for a baby golden monkey to be born. After birth, the mother will care for her infant until it reaches the age of independence. After this, the male Golden monkeys leave their pack, whereas the females will typically live out the duration of its life in the group it was born in.
Apart from Golden monkeys, we also have other species in the Cercopithecus family and they include the Blue monkey, Red-tailed monkey, Silver monkey, L'Hoest's monkey, De Brazza's monkey
Golden monkey trekking in Mgahinga National Park
During the dry seasons that is December – February, June – October, trekking of golden monkeys is very easier compared to the rainy season because of the muddy and slippery roads in the forests.
Golden monkey trekking is the 2nd activity liked by tourists and done similarly to Gorilla Trekking. Of current, there are two groups of habituated golden monkeys available for tourists.
Trekking Golden monkeys is not as hectic as Gorillas because they don't build nests every day and don't require trackers in the park to first track them before the visitors.
A golden monkey trekking permits costs 100 USD and is sourced at the Uganda wildlife authority offices which can be done directly or through your trusted company like Africa Reveal Safaris Ltd. Trekking time is always 7:00am with start off from the Park offices for briefing about the dos and the don'ts while with the Golden monkeys. Hike in search of the primates then begins from 8am. Only 2 hours are granted for you to spend with these gorgeous primates upon spotting them.