Our Blog

East African Travel Stories and Inspiration
Chimpanzee tracking in Uganda
Posted on Thu May 13, 2021.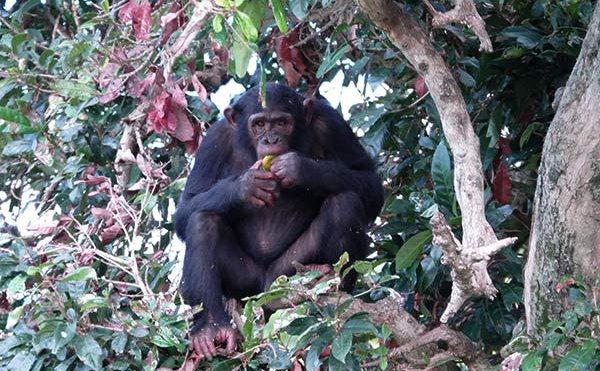 Uganda is a one a stop destination in East Africa with close to 5000 chimpanzees distributed in different forests and game parks. The chimpanzee population in Uganda used to be much higher than it is today but because of poaching and the unstable political environment, there has been a decline in population.
According to the research conducted, these apes share a DNA close to man with 98%. The chimpanzees move in troops and have families that have 30-80 members. Their life span goes up to 50years and they live only in rainforests and wet savannas. In Uganda, you can find the chimps in the below National parks, revers and sanctuaries;
Kibale Forest National Park
Kibale national park is located in the western part of the country sitting on 795square kilometers. The park neighbors Queen Elizabeth national park from the south creating a 180 kilometers long corridor for wildlife between Ishasha, Rwenzori Mountains and Semuliki national park.
Kibale national park is diversely known as Africa's most habitat of over 1500 Chimpanzees with other mammal species like the black and white colobus, red tailed monkey, and grey cheeked mangabey. There are also many different bird and plant species. Other wildlife that's rarely seen in the park include the leopards, bush pigs, duikers, buffaloes and elephants. It takes approximately 5-6 hours driving from Entebbe to Kibale National Park.
These Apes live in 13 communities where some have been habituated, others reserved for scientific study and others like Kanyanchu, Kanyawara, Ngogo, and Sebitoli group for tracking.
The Kanyanchu group is made up of more than 120 individuals led by an alpha male named Totti who took over after a two-year battle with the previous alpha called Magezi. The Kanyawara has up to 50 members, Ngogo up to 150 members and Sebitoli up to 100 members.
Visitors can always consider tracking Chimpanzees in Uganda because it's the best experience on can ever have in a life time. Tracking is normally done in the morning and in the afternoon. The duration for tracking is 3-4 hours. Chimpanzee trekking permits can always be purchase through your trusted company of Travel like Africa Reveal Safaris or it can be done directly from Uganda Wildlife Authority.
Kalinzu Forest
Kalinzu forest is located in the south western part of Uganda near Queen Elizabeth National Park. The Forest Reserve is approximately 375 km which is a five hours drive from Kampala/Entebbe. Chimpanzee trekking is one of the main activities at attracts visitors to explore kalinzu forest.
The Forest is the second highest populated with chimpanzee in Uganda after Kibale National Park. The park harbors approximately 320 chimpanzees and 50 of them are habituated and have been open to tourists for trekking.
In Queen Elizabeth national park, there is a higher concentration of chimpanzee in Kyambura gorge however it is easier to reach kalinzu forest through the Mweya sector of Queen Elizabeth national park, the route covers approximately 30-45 minutes' drive.
Chimpanzee trekking usually starts in the morning with the briefing at the parks headquarters led by the ranger guides who will guide you through the rules and regulations while with the chimpanzee. The activity is a bit tiresome but not has hectic as gorilla trekking but it also requires physical fitness to walk through the stiff terrain and sometimes, the ground is muddy in the forest which sometimes makes it difficult to trek through the forest, the trek normally lasts for 3 to 4 hours before you locate the chimpanzee. The chimpanzees are very mobile so you will need to follow them closely until you locate them.
You will be guided by the rangers / tour guides through the forest since they are a bit familiar with the habituated chimps, they will guide you through and help locate the chimpanzee for you.
Budongo Forest
The Budongo Forest is located northwest of Kampala City on the way to Murchison Falls National Park. It is also located in a semi-deciduous tropical rain forest at the top of the Albertine Rift. The forest is known for its former abundance of East African mahogany trees as well as being home to a population of chimpanzees.
The Forest is a natural habitat of more than 600 chimpanzees, of which a small community has been habituated for eco-tourism purposes. This habituated family consists of 80 individuals. The chimpanzee tracking is conducted in Kaniyo – Pabidi and is a 3-4 hour tacking. The forest is rich in biodiversity with 24 species of small mammals, 9 species of primates and 280 butterflies. Other primates that can be observed are the Black-and-White Colobus Monkeys, Olive Baboons, Red-tailed Monkeys, Blue Monkeys and Grey-cheeked Mangabeys.
Chimpanzee tracking in budongo forest can be conducted throughout the year but best in December to March and also in June and July when rainfall is less.
Ngamba Island Chimpanzee Sanctuary
Ngamba Chimpanzee sanctuary is located in Entebbe. Just less than an hour from the Entebbe international airport. It was established in 1998 as a sanctuary for orphaned and other chimpanzees rescued from poachers.
It was chosen because it supports a lush cover of near-pristine tropical rain forest including more than 50 plant species utilized by chimps in the wild. Ngamba Island Chimpanzee Sanctuary is home to 50 orphaned chimpanzees rescued from across East Africa. Chimpanzee Sanctuary and Wildlife Conservation Trust (Chimpanzee Trust), an NGO, is responsible for all aspects of the sanctuary.
Uganda wildlife Education Centre
The Entebbe Wildlife Sanctuary is found in Entebbe just a few meters from the international airport. It was established in 1951 with an aim of educating and reserving the homeless and casualty apes. This site seats on 51 square kilometers. The site is popularly known as "Entebbe Zoo". It harbors a number of chimpanzee with a beautiful experience of chimpanzee upclose.
Bookings for a chimpanzee up close and permits can be made via Africa Reveal Safaris.