9 Days Classic Tanzania Safari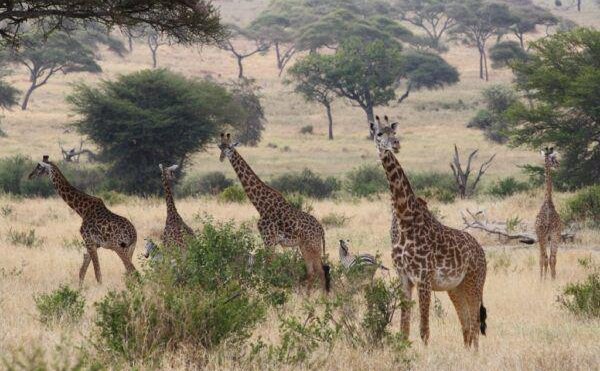 Embark on the breathtaking landscapes of Tanzania, from the savanna plains that teem with zebras and wildebeests to the deep caldera of Ngorongoro Crater, where an incredible range of species exist.
Explore Tarangire National Park, home to a large concentration of African elephants, visit the golden steep plains of Serengeti National park.
Includes
All airport transfers
Domestic flights mentioned.
4 x 4 land cruiser for transfers with a fluent English/French /Spanish speaking Guide
Bottled drinking mineral Water
Accommodation as mentioned on Full Board
All Park fees
Game drives mentioned.
All activities mentioned in the itinerary.
Excludes
Visa
Insurance
Activities not mentioned in the itinerary
Flights not mentioned
Tips and gratitude.
Itinerary
Upon arrival at Kilimanjaro International Airport, you will be transferred to your booked hotel in Arusha where you will spend the rest of the day relaxing.
Day 2
Transfer to Tarangire National Park
After breakfast, we depart for Tarangire National Park which runs along the line of the Tarangire River and is mainly made up of low-lying hills on the Great Rift Valley floor.
It is famed for the largest elephant herds in Africa, the Greater Kudu, the Fringed-eared Oryx, and Ashy Starlings. The journey takes 3hours. Enjoy the game drives till late evening and head to your lodge for dinner and overnight.
Day 3
Tarangire National Park
After having an early breakfast, you will spend another day exploring Tarangire National Park on game drives. Tarangire's grassy plains are dotted with massive baobab trees and home to a high concentration of area wildlife.
Elephants are especially abundant here, with some herds numbering up to 300 strong. Seek out large herds of zebras, giraffes, and wildebeest, as well as the skulking leopards and cheetahs that prey on them.
The park is also home to around 550 species of birds, including dazzling Yellow-collared lovebirds and the world's largest avian species, the stocking-thighed ostrich.
Day 4 & 5
Transfer to Ngorongoro National Park
After breakfast, transfer from L. Tarangire NP to Ngorongoro Conservation Area, a UNESCO World Heritage site, to your lodge, perched on the rim of the Ngorongoro Crater.
Then embark on a safari through this green-walled wildlife paradise. Ride past herds of zebra grazing next to flamingos and crowned cranes, look for lionesses stalking their prey and try to spot the rare black rhino.
Return to the lodge for an afternoon at leisure and catch a dazzling sunset over the caldera. This afternoon, settle into your lodge, perched on the rim of the Ngorongoro Crater.
Have an early breakfast the next morning and embark on the game drives in the park for a full day.
Day 6
Fly to Serengeti National Park
In the morning after breakfast, Fly to the vast plains of the Serengeti and check in to your booked accommodation. In the afternoon after lunch, set out on safari till the sun goes down and return to your accommodation for dinner and rest.
Day 7
Serengeti National Park
After having breakfast, head out for a morning game viewing drive along the Sogore River Circuit, which loops into the plains south of the Seronera River, a great option for viewing lions, gazelles, topis, ostriches, and cheetah sightings.
Enjoy a relaxed picnic lunch before heading to the Kopjes Circuit, around the Maasai Kopjes, which usually attract a number of lions and some formidably large cobras. After the sunset, drive back to the lodge for dinner and overnight.
Day 8
Serengeti National Park
Rise early for a beautiful set bush breakfast followed by a private game drive. After time at leisure, head out on a final afternoon safari on the lookout for jackals, wildebeests, zebras, and big cats.
Fly/drive to Arusha and relax at your hotel before catching your flight home this evening. The drive-by road takes 6-7 hours.