7 Days Luxury Safari Uganda for Wildlife & Gorilla Trekking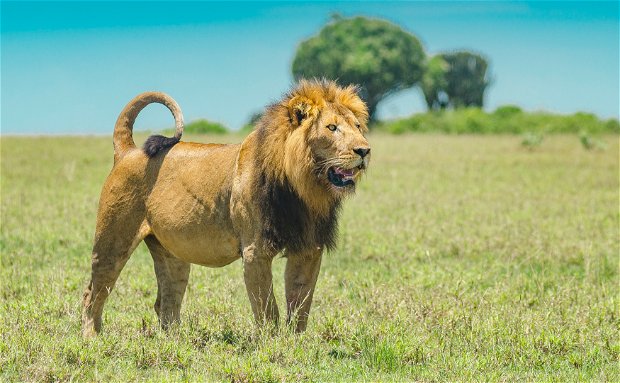 Luxury Safari for 7 Days Uganda is the finest wildlife and gorilla safari destination for those who demand the best service and attention to detail. We travel in luxury private safari vehicles, stay in 5-star hotels and lodges, and dine on fine cuisine.
The luxurious Uganda safari includes rhino tracking at Ziwa Rhino Sanctuary, wildlife drives and boat cruises at Murchison Falls National Park and Queen Elizabeth National Park, and mountain gorilla trekking at Bwindi Impenetrable National Park.
Murchison Falls National Park is a wonderful Uganda wildlife safari park that is home to four of the big five game species as well as a range of other wildlife and primates in their natural settings. Murchison Falls is the largest of Uganda's ten national parks. Rothschild giraffes, hyenas, crocodiles, hippos, bush bucks, over 451 bird species, and other wildlife species thrive at Murchison Falls NP.
The Ishasha area of Queen Elizabeth National Park is home to rare animals, including tree climbing lions. This is the second largest park in the country, and it is home to crocodiles, hippos, elephants, buffaloes, lions, over 620 bird species, warthogs, antelopes, leopards, and other animals.
Bwindi Impenetrable National Park is a tropical forest park that covers 331 square kilometers. It was founded in 1991 with the intention of housing a portion of the world's 1063 mountain gorillas, of which 459 live in Bwindi alone. Mountain gorilla trekking is accessible in the Buhoma, Ruhija, Rushaga, and Nkuringo sectors of Bwindi.

7 Days Luxury Safari Uganda Inclusions
·         Gorilla permit
·         Park entry fees
·         Guide/driver services for 7 days
·         Accommodation 6 nights & full board
·         All safari activities for 7 days
7 Days Luxury Safari Uganda Exclusions
·         Airfares
·         Tips
·         Visas
·         Passports
·         Laundry
·         Beverages
Itinerary
Day 1
Murchison Falls National Park
Transfer to Murchison Falls National Park Drive time from Kampala is 5-6 hours. Drive north through Luweero, a well-known historical town, and then stop at Ziwa Rhino Sanctuary along way to track rhinos.
Leave Ziwa for expensive eating in Masindi town, and then proceed to your lodge via Kichumbanyobo gate, but not before visiting the top of the falls.
Main Activities: Rhino tracking, Visit to the top of Murchison Falls
Day 2
A full day Murchison Falls Exploration
The best way to catch up with the early risers is to start your morning game drive early. You can expect to see buffaloes, giraffes, elephants, antelopes, birds, lions, leopards, and other animals during your 3-4 hour game drive along the Northern game trail.
After lunch, you'll embark on an afternoon Victoria Nile launch cruise, which will take you up to the bottom of the falls in 2-3 hours. There are various wildlife species to witness along the river banks from Paraa to the bottom of the falls, including Nile crocodiles, hippos, aquatic birds, and more.
When you get at the bottom of the Murchison Falls, get off the boat and begin trekking up to the top to see the water drive itself into a tight gorge, generating a perpetual rainbow and a deafening sound.
Main Activities Game drive, Boat cruise, Hike to the top of Murchison Falls
Food Plan: Full-Board
Day 3
Drive to Queen Elizabeth National Park
In the districts of Rukungiri, Kasese, Rubirizi, and Kamwenge, Queen Elizabeth National Park is a magnificent spot to observe tree climbing lions and a unique Kazinga channel.
Leave Murchison Falls National Park, travel to Fort Port for lunch, and visit the Crater Lakes, Rwenzori Mountain ranges, and other sights along the way. Check into your luxurious wildlife safari lodge for an overnight stay at Queen Elizabeth National Park.
Main Activities: Sightseeing, Travelling
Food Plan: Full-Board
Day 4
Exploration of Queen Elizabeth National Park
Leave your lodge for a game drive Queen Elizabeth Safari Park taking 3-4 hours while spotting diversity of wildlife. The Kasenyi track is a complete game viewing trail and expect animal sightings such as bush elephants, lions, leopards, kobs, birds, buffaloes, warthogs and others.
Return for lunch, after the next activity will be Kazinga Channel boat cruise for 2-3 hours. This is for you to see hippos, water birds, crocodiles and after, get back while still exploring more attractions on the Kazinga channel that links Lake Edward and George.
Main Activities Game drives, Launch cruise, Bird watching
Food Plan: Full-Board 
Day 5
Drive to Bwindi National Park
The fifth day of our 7-day luxury safari in Uganda is nearly entirely dedicated to traveling from Queen Elizabeth National Park to Bwindi Impenetrable National Park, a 4-5-hour road adventure that begins early in the morning after breakfast.
Drive through Ishasha to see rare tree-climbing lions, as well as other wildlife, birds, and stunning scenery, before continuing on to Bwindi Impenetrable National Park.
Day 6
The Ultimate Gorilla Trekking Experience
Join other visitors for a briefing before embarking on a thrilling gorilla trekking adventure: Leave your luxury safari lodge with bottled water, snacks, and your waterproof hiking boots fully on. You will learn about the gorilla trekking laws and a gorilla group to track beginning at 8:00 a.m. at the briefing point.
The entire hiking journey takes 2-6 hours, including one hour spent in the forest with mountain gorillas. Return to the lodge for some relaxation, either by swimming or by seeing the Batwa pygmies in the surrounding settlement.
Main Activities Gorilla trekking, Batwa community visit
Food Plan: Full-Board
Day 7
Depart to Kampala/Entebbe
Start driving back to Entebbe or Kampala after a magnificent meal (8-9 hours in a 4WD). Visit the Equator Crossing or the Mpambire Drum Makers en route, and either bring a packed lunch or stop at a motel.
End of your 7 Days Luxury Safari Uganda