5 Days Uganda Primates and Wildlife Safari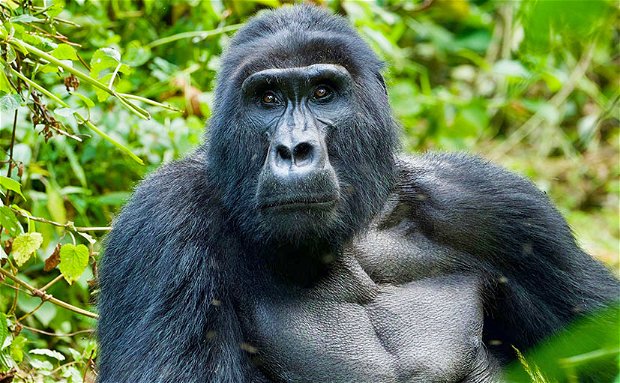 The Uganda Primates and Animal Safari is a fantastic way to see Uganda's most popular wildlife species in a short amount of time.
The thrilling 5-day Uganda Primates & Wildlife Safari is the best way to see mountain gorillas, chimps, and other mammals (including lions, leopards, antelopes, warthogs, buffaloes, and elephants, among others).
This epic short journey visits Uganda's two most popular safari destinations: Bwindi Impenetrable National Park in south-western Uganda for mountain gorilla trekking and cultural tours, and Queen Elizabeth and Kibale National Parks in western Uganda for chimpanzee trekking, a Launch cruise, and game viewing.

Inclusions of the 5 days Uganda Primates and wildlife Safari:
·         Chimpanzee trekking permit.
·         Game viewing.
·         Launch cruise.
·         Park entrance fees.
·         Relevant Government taxes.
·         Bottled water.
·         Driver allowances.
·         A customized 4wd Vehicle plus fuel fees.
·         4 nights' accommodation-2 nights in Bwindi and other 2 nights in Queen Elizabeth National Park.
·         Meals according to the meal plan.
5 days Uganda Primates and wildlife Safari Exclusions:
·         Personal expenses such as tips (for porters, guides or waitresses/waiters), laundry fees, cigarettes, telephone bills, shopping and souvenirs.
·         Visa fees.
·         Travel insurance covers.
Itinerary
Day 1
Transfer from Kampala to Bwindi Impenetrable National Park
The first day of your 5-day Uganda Primates and Wildlife Safari is as follows: Wake up early enough for breakfast (at least 5:00 a.m.) and be picked up by our safari guide from your home by 6:30 a.m. After being briefed on your exciting 5-day Uganda Primates Safari, depart for Bwindi Impenetrable National Park, a journey that will take 8-9 hours and include several stops.
Your first stop will be at the Uganda Equator, which is located along the Kampala-Masaka highway, where you will spend at least 30 minutes taking photos and learning about how the Earth is divided into the Northern and Southern Hemispheres, as well as having the unique opportunity to stand on both hemispheres.
Continue on your fascinating and instructive adventure while admiring the beauty that has earned Uganda the title of "Pearl of Africa," with a stop at the Igongo Cultural Center before lunch in Mbarara (the Town of Milk and Honey). Continue until you reach Bwindi's northern sector, where you will be based.
Meal Plan: Lunch and Dinner.
Travel time: 8-9 hours
Day 2
Mountain gorilla trekking and cultural tour
After a hearty breakfast at the Lodge, head to the Park Headquarters with your trekking gear for a briefing on the dos and don'ts of mountain gorilla hiking. At 8:00 a.m., be transported to the trailhead and begin the trek with other 7 trekkers, porters, an armed ranger, and a guide, which will take approximately 1-3 hours to locate the assigned gorilla family.
When you find the family, your clock starts ticking, cameras start rolling, and information on mountain gorillas starts flowing, and your time with the gorillas is up after 60 minutes. Return to the Park Headquarters for your hiking certificate and subsequently to the Lodge after finding a convenient area to eat your packed lunch.
In the afternoon, go on a community stroll to learn about the fascinating rural life and culture of the people, which will be capped off with an amazing cultural dance. For dinner and the night, return to the Lodge.
Meal Plan: Full board.
Day 3
Transfer to Queen Elizabeth National Park
Check out of the Lodge after a leisurely breakfast and begin your trip northwards into the southern area of Queen Elizabeth National Park.
The Uganda Kobs, buffaloes, and elephants will greet you to the savannah National Park, and you will have the opportunity to view tree climbing lions while traveling through the Ishasha sector (if lucky). Visit the Park's northern part, which is recognized for its diverse fauna and bird species. Arrive on time for lunch, then unwind, have dinner, and retire for the night.
Meal Plan: Breakfast, Lunch and Dinner.
Day 4
Morning game drive and afternoon Launch cruise
Prepare to experience the untamed beauty of Queen Elizabeth National Park with a cup of steaming tea or coffee. Start the game drive at 6:30 a.m. by driving through the park's northern half, particularly the Kasenyi game road, where you'll see elephants, bushbucks, buffaloes, Uganda kobs, Defassa waterbucks, small prides of lions, and leopards. Return to the Lodge for a good breakfast and recover till lunchtime after a 3-4 successful and nature fulfilling wildlife drive.
After lunch, head to the park's most exciting visitor attraction: a launch cruise through the Kazinga Channel, where Nile crocodiles and hippos can be seen just yards from the boat.
Elephants, buffaloes, and Uganda kobs will be observed on the banks of the Kazinga Channel during this boat tour, not to mention the lovely birds that will be spotted on the banks, surrounding wetlands, in the water, or freely flying up into the sky. The best views are from the upper deck of the boat while cruising. Return to the lodge for dinner and a restful night's sleep.
Meal Plan: Full board.
Day 5
Chimpanzee tracking and return to Kampala
Get your trekking gear ready for a stroll over the Kyambura gorge with one of the habituated chimpanzee communities after breakfast. It takes less time to find them here than in larger areas such as Kibale Forest and Budongo Forest, for example.
Return to the Lodge for check-out after one hour. Leave Queen Elizabeth National Park for Kampala, stopping for lunch in one of the towns along the way and seeing how traditional drums are produced from certain tree species at Mpambire Drum Makers
End of 5 days Uganda Primates and Wildlife Safari