2 Days Rhino Tracking Tour in Ziwa Rhino Sanctuary Uganda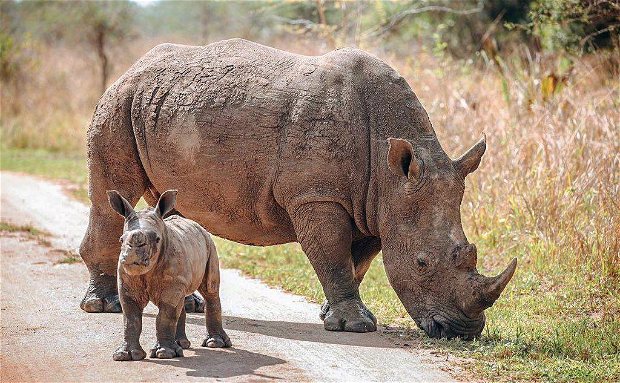 The 2 Days Rhino Tracking Tour in Ziwa Rhino Sanctuary shows you the endangered White Rhinos in their native habitat if you are interested in Rhinoceros conservation.
The Ziwa Rhino and Wildlife Ranch is the only wild home of southern white rhinoceros, and every visit to the sanctuary helps to save these endangered animals, which were reintroduced in Uganda in 2001 and 2006.
This 2-day Rhino Tracking Tour in Ziwa Rhino Sanctuary also includes other exciting activities including shoebill trekking and canoeing, as well as nature walks, birding, and a view of the Milky Way.
Destination
Ziwa Rhino Sanctuary
Includes
Transportation in a private vehicle.
Accommodation for 1 night
Park Entrance fees
Fees for all activities mentioned
English speaking guide
Food as per the itinerary
Bottled drinking water
French or German speaking Guide on request
Excludes
Accommodation in Kampala or Entebbe except when asked to book on your behalf
Beverages not served with food such as alcoholics drinks
Any other activity at the sanctuary not included in the itinerary
Money for tips, buying souvenirs and laundry
Visa entry fees and flight fees.
About Ziwa Rhino Sanctuary
In Uganda's Nakasongola district, the Ziwa Rhino Sanctuary is a 7000-hectare rhino and wildlife ranch. It was founded with the goal of reintroducing rare white rhinos that had become extinct in Uganda due to previous poaching efforts.
The sanctuary began with only six rhinos in 2006, and by 2021, the ranch had grown to 32 white rhinos. Ziwa is also home to a variety of wild animals, primates, and birds.
Rhino Fund Uganda and Uganda Wildlife Authority were in charge of the Ziwa Rhino Sanctuary project.
The 2 Day Rhino Tracking Tour and Shoebill Trek will provide an overview of the sanctuary's history.
Itinerary
Day 1
Transfer from Kampala/Entebbe to Ziwa Rhino Sanctuary
We begin our journey early in the morning, just like any other short Uganda safari, in order to arrive at Ziwa Rhino Sanctuary on time and participate in the planned activities. At roughly 08:30 a.m., our tour guide/driver will pick you up from your hotel or airport and transport you straight to the Sanctuary.
You are most likely to arrive at Ziwa Rhino Sanctuary during lunch hours, so you will check-in, have lunch and wait for the evening shift of trekking the majestic white rhinoceros, which takes place between 16 and 18 hours.
Before setting foot on the ranch for rhino tracking, you will be informed about the dos and don'ts at roughly 15H:30. You will enter the domain of the southern white rhinos accompanied by well-trained rangers, tracking them wherever they may be at the time.
Because the sanctuary spans thousands of acres, a car can be used to go closer to rhinos and make your walk easier.
On the first day of the 2-day Rhino Tracking Tour, there is a chance of seeing other mammals that live in the sanctuary while tracking the rhinos. Bushbucks, Uganda kobs, waterbucks, oribis, and Hartebeests are just a few examples. View of the Milky Way from Ziwa Rhino Sanctuary
For dinner and the night, return to your resort or camping spot. Ziwa Rhino Sanctuary takes you to the stars at night, with views of the Milky Way from your lodge. At night, there is also a campfire.
Travel Time: 5 hrs, Activity Time: 11/2 to 21/2 hours.
Day 2
Shoebill Trek and Canoe Ride
On day 2 of the 2-day Rhino Tracking Tour, we'll be up early to catch the worm and head to Lugogo Swamp for shoebill trekking. You'll go on a canoe excursion to see whale-headed birds and shoebills that nest in wetlands (swamps) and feed on lungfish, frogs, and other swamp critters.
This early morning boat ride allows you to see shoebills in the swamp and a magnificent sunrise over Ziwa Rhino Sanctuary Uganda's Lugogo swamp. The wetland is abundant in wildlife and is home to many water fowl.
Because the gates open at 07H: 30, it is recommended that you sleep in the sanctuary; however this activity is best done early in the morning.
Shoebill trekking and canoe riding take about 4 hours at Ziwa Rhino Sanctuary.
After that, you'll go on a guided nature walk to see hundreds of birds, small wild creatures, and primates like black and white colobus monkeys and vervet monkeys.
Before traveling back to Kampala or Entebbe airport, return to your lodge for lunch and check out. Your 2-day Rhino Tracking Tour will come to a close here.
Note: For a pleasant experience, bring drinking water, close-toed shoes and long pants, insect repellent, and a camera (without flash) to capture memories.