15 Days Best of Uganda Safari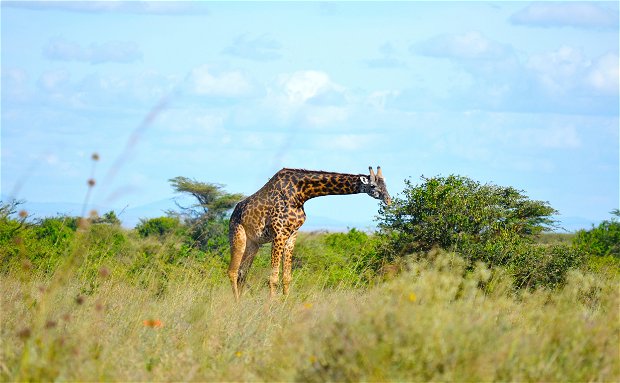 Our 15-day Best of Uganda Safari includes some of Uganda's most exciting tourist activities, including gorilla trekking, bird watching, wildlife game drives, chimp trekking, and city tours. This Safari takes you to the best of the Pearl of Africa, from the spectacular Murchison Falls National Park to the lush Kibale Forest National Park, Queen Elizabeth National Park, Bwindi Impenetrable Forest, Lake Bunyonyi, and Lake Mburo National Parks.
During our guided game drives, a variety of animals, including lions, leopards, Cape buffaloes, impalas, Jackson's hartebeests, Roan antelopes, Klipspringers, Dik-diks, Oribis, African bush elephants, Hippos, Topis, warthogs, Nile crocodiles, Defassa waterbucks, Olive baboons, bushbucks, vervet monkeys, duikers, and many others are likely to be sighted.

What's included on our 15 days Best of Uganda Safari package?
·         Gorilla trekking permit for Uganda.
·         Chimpanzee permit.
·         City excursion.
·         Game drives.
·         Boat rides.
·         Guided forest walks.
·         Entry fees to the National Parks, Forest Reserves, Museums and others.
·         Unwinding on shores of Lake Bunyonyi.
·         Bottled water.
·         Relevant Government taxes.
·         A 4X4 safari vehicle for Park transfers.
·         14 nights' accommodation.
·         Meals according to the itinerary.
·         Services of a professional safari driver.
·         Airport pick-up and drop-off.
What's not included on our 15 days Best of Uganda Safari?
·         Additional activities not part of the itinerary.
·         Personal expenses in form of laundry fees, telephone expenses, shopping, cigarettes and beverages, post and pre-safari accommodation as well as gratuities.
·         Visa fees.
.           Airfares
Itinerary
Day 1
Arrival in Entebbe, start of the 15 Days Best of Uganda Safari
Welcome to Entebbe where you will meet our guide to welcome you and pick you up to your hotel for accommodation
Entebbe's breezy location on the banks of Lake Victoria, as well as the warm Equatorial temperature, make it excellent for walking trips. This day's meals and rest will take place within the lovely Town.
Meals:  Dinner.
Day 2
Mabamba Bay Wetland excursion and road trip to Kampala City
Your day of exploration begins with a pick-up from your Entebbe hotel, followed by a drive along Lake Victoria's shoreline to the picturesque Mabamba Bay wetland.
After arriving, meet the local guides and embark on a motorized boat journey to see the rare shoebill storks and various wetland vegetation.
Along with the African jacana, cattle egrets, pied and gigantic kingfishers, saddle-billed storks, and so much more, you'll have the chance to witness up to 6 of these internationally endangered birds. Following the wetland trip, your vehicle will take you to Kampala for an overnight stay and dinner.
Meals: Breakfast, Lunch and Dinner.
Day 3
Arrival in the spectacular Murchison falls National Park
On this day you will transfer from your Hotel in Kampala to Murchison falls National Park. Along the way visit the amazing Ziwa Rhino Sanctuary for the unrivalled rhino tracking tour, with chances of seeing the country's only population of southern white Rhinos in the wild.
Get served lunch at a local Resturant after your encounter with one of the big five animals and head to the National Park accommodation for dinner and overnight, after the hike to the top of the falls.
Meals: Breakfast, Lunch and Dinner.
Day 4
Murchison falls National Park excursion: Guided game drive & Boat riding experience
After breakfast, you will be met and picked-up from the Wilderness lodge/or Camp by your private safari driver. Depending on the location of the accommodation facility, the game drive begins immediately from the comfort of your place of stay or after getting to the Park entrance.
Jackson's hartebeests, Defassa waterbucks, spotted hyenas, serval cats, lions, Cape buffaloes, Uganda Kobs, leopards, Rothschild giraffes, bushbucks, Oribis, jackals, Olive baboons, African bush elephants, vervet monkeys, Dik-diks, Topis, and other animals can be seen on game drives in Murchison Falls National Park. This exercise lasts 3-4 hours and takes place along the river's banks.
After a mid-morning siesta and lunch, take a boat tour to the bottom of the Murchison Falls to see more creatures, including hippos and crocodiles with Uganda Kobs, elephants and Cape buffaloes, wetland and aquatic bird species.
During the boat tour, expect to see sunset views before proceeding to your lodging for food and rest.
Meals: Breakfast, Lunch and Dinner.
Day 5
Ride to the lush Primate Capital of the World; Kibale Forest National Park
This morning you will set out for a road trip to the verdant Primate capital of the World, Kibale Forest National Park.
While on this 7-8 hour's journey, enjoy views of the Lake Albert flats, stunning escarpments, snow-capped peaks of the Rwenzori Mountains, rural homesteads and farms until you take a break at Fort Portal Town for Lunch.
In the evening, you will tour a few of the Crater Lakes in the area and continue towards the accommodation facility for dinner and overnight at the outskirts or inside Kibale Forest National Park.
Meals: Breakfast, Lunch and Dinner.
Day 6
Kibale Forest excursion; Chimpanzee trek and guided walk through Bigodi wetland
Start the sixth day with a hearty breakfast at your Safari Lodge in or near Kibale Forest National Park before heading to Kanyanchu Visitor Center by car or foot.
It will just take a few minutes to get there, but the Park Rangers will provide you with a briefing and registration. After that, you will be assigned to one of the habituated chimpanzee populations and will begin your trek at 8:00 a.m.
Keep a look out for other Park residents as you stroll through the rainforests in quest of the chimp, particularly olive baboons, bird species, red-tailed monkeys, elephants, and rare tree species.
Enjoy amazing views from high altitudes, then spend an hour viewing and photographing the Great Apes once they are seen. After that, return to the Parking Headquarters to say your goodbyes and potentially tip the hiking crew before returning to the Lodge for lunch.
After a delicious lunch, travel to Bigodi Wetland Sanctuary, which is known for its various wetland bird species and a variety of monkeys. Take a plunge in the pool, have dinner, and stay the night at the Lodge, which stands out as a successful community-based tourism destination.
Meals: Breakfast, Lunch and Dinner.
Day 7
Kibale Forest Park to the stunning Queen Elizabeth National Park
After breakfast, meet your safari drive and ride to Queen Elizabeth National Park, one of the top wildlife safari destinations in Africa and home to the renowned tree climbing lions that gracefully occupy the southern sector of Ishasha.
You can begin your game drive while on your way to the Lodge for lunch after you arrive at either of the entrance gates to this mixture of wonders.
Queen Elizabeth National Park is located 3-4 hours by vehicle from Kibale Forest and offers breathtaking vistas. After you arrive, you can relax for the rest of the day.
Meals: Breakfast, lunch and Dinner.
Day 8
Queen Elizabeth National Park excursion: Game drive & Boat ride along Kazinga Channel
Make sure to eat a hearty meal this morning, since the full-day Queen Elizabeth game viewing experience is expected to last around 4-5 hours.
Your first stop on this game drive will be in Kasenyi Plains, one of the park's animal hotspots. Look for Uganda Kobs, African bush elephants, Defassa waterbucks, Cape buffaloes, Oribis, Hippos, Olive baboons, Leopards, spotted hyenas, and much more as you drive through this area.
You will continue to the Safari Lodge for lunch after your drive through the Kasenyi plains and other magnificent regions of Queen Elizabeth National Park.
In the afternoon, return to the wilderness and board a boat at the main dock of Kazinga Canal-Mweya jetty to cruise along this natural channel that connects Lakes Edward and George.
Hippos, crocodiles, elephants, and buffaloes, as well as unusual birds, can be seen here. Return to the Lodge for dinner and rest after this journey.
Meals: Breakfast, lunch and Dinner.
Day 9
Maramagambo Forest walks and Ishasha game drive
Transfer from the Lodge to the awe-inspiring Maramagambo forest for a guided walk early in the morning.
During this guided walk, expect to see chimps, olive baboons, vervet monkeys, black and white colobus monkeys, blue monkeys, and birds such as Papyrus gonolek, pink-backed pelicans, White-winged warblers, and others.
End your tour in the late morning with a picnic lunch before continuing on to the Ishasha area of Queen Elizabeth National Park in the south.
Arrive on time to watch the strange tree-climbing lions lounging on large fig tree branches, keeping an eye on the unwary Uganda Kobs and other antelopes.
Defassa waterbucks, Topis, and Cape buffaloes are among the other creatures in the sector. Spend the night and dinner at Queen Elizabeth National Park's southern section.
Meals: Breakfast, Lunch and Dinner.
Day 10
Set off for the World renowned Bwindi Impenetrable National Park
After a morning wildlife drive in Queen Elizabeth National Park's Ishasha area, travel to Bwindi Impenetrable National Park in the afternoon.
Enjoy a delicious meal before heading to the nearby neighborhood to socialize with the residents, stretch your legs, and possibly buy some souvenirs. The Lodge provides a cup of tea or coffee, as well as amazing views.
Meals: Breakfast, Lunch and Dinner.
Day 11
Bwindi Impenetrable Park excursion: Gorilla trekking tour and optional community visit
This day's tour begins earlier with breakfast at the Lodge and meeting at the Park Headquarters. Attend briefing and registration, provided by the Park Rangers to take you through the dos and don'ts of trekking these Giant Apes followed by allocation into habituated gorilla families.
Take 2-5 hours in the jungles and that includes the one hour of observation and taking photos of these endangered creatures. From here, walk back to the Park headquarters to receive a trekking certificate, after which drive or walk back to the Lodge for lunch.
After your gorilla trekking excursion, relax for the rest of the evening or take a cultural tour of the Batwa town nearby. Take a look at their distinctive architectural designs, hunting and gathering talents, bamboo cup manufacturing, and stick fire making, to name a few. After an exciting day, return to the Lodge to eat and recuperate.
Meals: Breakfast, Lunch and Dinner.
Day 12
Continue to the magnificent Lake Bunyonyi
Around 8:00 a.m., you will depart from your hotel in Bwindi Impenetrable National Park for a lovely journey to the magical Lake Bunyonyi. As you pass terraced hilly slopes and awe-inspiring Mountain views during your tour, there will be ample possibilities to pause for photos.
After arriving, you will embark on a boat excursion to the several beautiful Islands, which are home to a variety of animal and bird species.
Plantain, sweet potatoes, Irish potatoes, vegetables, and fresh fruits make for a sumptuous and filling lunch if you eat lunch at a local eatery and sample some of the local flavors as well as cooking procedures of local communities-plantain, sweet potatoes, Irish potatoes, vegetables, and fresh fruits. Return to the Lodge in the evening for dinner and an overnight stay.
Meals: Breakfast, Lunch and Dinner.
Day 13
Scenic drive to the beautiful Lake Mburo National Park; afternoon boat ride
You'll depart Lake Bunyonyi in south-western Uganda for a guided drive to Lake Mburo National Park, enjoying stunning views of the terraced hills along the way, and arriving at the Igongo Cultural Center for lunch in the afternoon.
Continue to the Park, passing through Sanga Gate, where your game drive will begin as you check into the Lodge.
During this drive, you'll see a variety of amazing species, including Cape buffaloes, zebras, Topis, Impalas, Rothschild giraffes, warthogs, Olive baboons, Defassa waterbucks, vervet monkeys, Oribis, bushbucks, and more. Take a drive through the valleys and stop at the Lakeside restaurant for lunch.
Immediately walk to the Lake Mburo dock and board the boat for a cruise through the water vegetation, where you will observe several hippos and crocodiles.
Buffaloes and Impalas, as well as birds and monitor lizards, are also frequent. Drive to the Safari Lodge in the evening for a well-earned dinner and a good night's sleep.
Meals: Breakfast, Lunch and Dinner.
Day 14
Early morning game drive and drive back to the remarkable Kampala
After breakfast, go on an early morning wildlife drive to witness additional Cape buffaloes, giraffes, warthogs, Hippos, Olive baboons, Defassa waterbucks, Topis, and vervet monkeys, to name a few.
After eating the Lodge's lunch, depart for Kampala City. Before arriving at the hotel for the night, drive through the savannah-fringed roads and banana plantations, soaking in the spectacular vistas.
Meals: Breakfast, Lunch and Dinner
Day 15
End of the 15 days Best of Uganda safari: Departures
Unfortunately, today is your last day in Uganda. Before leaving for Entebbe International Airport, enjoy breakfast and meet with the driver at the hotel. From here, you'll make your way to the airport for your international flight.