12 Days Kenya and Tanzania Safari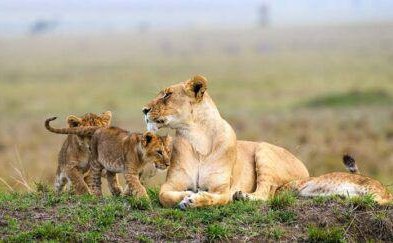 Our 12 Days Kenya & Tanzania Safari traverses the major parks of Kenya and Tanzania, the Wildebeest Migration in Serengeti and Maasai Mara. Explore the Ngorongoro Crater, Lake Manyara Park, and Tarangire National Park.
Includes
All airport transfers
4 x 4 land cruiser for transfers with a fluent English/French /Spanish speaking Guide
Bottled drinking mineral Water
Accommodation as mentioned on Full Board
All Park fees
Game drives
All activities mentioned in the itinerary.
Excludes
Visa
Insurance
Activities not mentioned in the itinerary
Flights not mentioned
Tips and gratitude.
Itinerary
Day 1
Arrival at Jommo Kenyatta International Airport
Arrive at JKI Airport where you will be collected by our company guide /driver in a private safari vehicle and transferred to your accommodation in Nairobi where our company representative will meet you for briefing about your 12days Kenya and Tanzania safari.
Day 2
Nairobi – Maasai Mara
After breakfast, we drive to the floor of the Rift Valley to Maasai Mara to start the Kenya & Tanzania Migration Safari as we set out, the first scenic views will be the spectacular escarpments and expansive floors of the valley laden with patches of whistling thorn acacia plants.
The valley gradually gives way to rolling shrubland, with predominantly wooded bushland and riverine vegetation along the streams and dry river bed.
You will arrive in time for lunch; thereafter have an afternoon game drive before returning to your booked lodge for relaxation.
Day 3 & 4
Game Drives – Maasai Mara
After breakfast, you will have a go at the game drives once again for the migration experience. You will have 2 full days of game drives in the Maasai Mara.
You have either head out for full-day game drives with packed lunches or start early with a game drive with a packed breakfast before return to the lodge for hot lunch and rest before heading out on an evening game drive.
The Maasai Mara is famed for the annual migration of wildebeest and zebras and the Big Five which starts around July and ends in late October where the game crosses the Mara.
Look out for encounters with lions, zebras, antelopes, giraffes, gazelles, elephants, leopards, and buffaloes.
Day 5
Maasai Mara – Serengeti National Park
After having breakfast, check out and head for a long day's drive from the Mara to the Tanzania border and onto the Serengeti National Park with packed lunches.
At the Tanzania border, there will be a change of vehicles and guides for this part of the Kenya & Tanzania Migration Safari. There will be an evening game drive in the Serengeti if time allows.
Day 6
Game Drives- Serengeti National Park
After having an early breakfast, head to the park for a game viewing drive along the Sogore River Circuit, which loops into the plains south of the Seronera River, a great option for viewing lions, gazelles, topis, ostriches and cheetah sightings.
Enjoy a relaxed picnic lunch before heading to the Kopjes Circuit, around the Maasai Kopjes, which usually attract a number of lions and some formidably large cobras.
Day 7
Game Drives – Northern Serengeti
After an early breakfast, spend another full day in Northern Serengeti were from July, August to September, the Mara River in northern Serengeti affords the most dramatic river crossings.
You will have game drives with packed lunches or start early with a game drive with a packed breakfast before return to the lodge for hot lunch and rest before heading out on an afternoon game drive.
Day 8
Central Serengeti – Ngorongoro
After breakfast, you will have an early morning game drive in northern Serengeti then make your way back down to central Serengeti in the Seronera Valley with vast populations of bovid and predators that remain even after the spectacular hordes of the wildebeests and zebras have gone.
You will proceed to Naabi gate then continue your drive through the Ngorongoro conservation area to the Ngorongoro crater.
Day 9
Game Drive – Ngorongoro
After breakfast, we drive down the steep slopes of this magnificent crater for a full-day game drive. The Ngorongoro Crater is one of the most densely crowded African wildlife areas in the world and is home to an estimated 30,000 animals including some of Tanzania's last remaining black rhino.
Look out for wildebeest, zebras, buffalo, and Giant African elephants, a huge population of predators, which include lions. We will enjoy a picnic lunch on the crater floor as the game drive commences after lunch till late evening when we drive back to the lodge.
Day 10
Transfer from Ngorongoro – Lake Manyara
After breakfast, depart for Lake Manyara National Park for a game drive of this very diverse park. This park has the highest concentration of monkeys in north Tanzania and is one of Tanzania's most dramatically located wildlife areas, consisting of a massive but shallow soda lake (covering two-thirds of the park), located at the foot of the Great Rift Valley's western escarpment.
The park's habitat attracts a wide variety of animals, including one of Africa's largest concentrations of elephants, tree-climbing lions, and large flocks of flamingo's baboons, vervet monkeys, impalas, wildebeest, zebras, hippos, giraffes, and buffaloes.
Day 11
Lake Manyara – Tarangire NP (Arusha)
After breakfast, we depart for Tarangire National Park which runs along the line of the Tarangire River and is mainly made up of low-lying hills on the Great Rift Valley floor.
It is famed for the largest elephant herds in Africa, the Greater Kudu, the Fringed-eared Oryx, and Ashy Starlings.
After breakfast, visit the Arusha town Museum then lunch before setting off for Kilimanjaro Airport for your departure flight back home.