1 Day Rhino Trekking Tour at Ziwa Rhino Sanctuary Uganda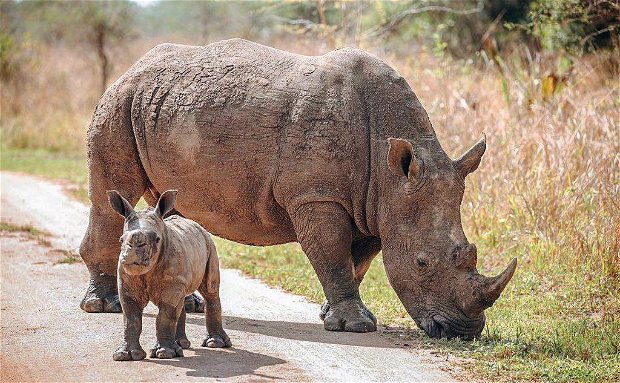 The 1 day Rhino Trekking Tour to Ziwa Rhino Sanctuary is a short excursion designed to allow you to track endangered White Rhinos that have been reintroduced to the sanctuary for protection.
Shoebill Trek, Bird Watching, and a Nature Walk are all included in this Rhino Trekking Tour.
Rhino trekking provides a wonderful encounter with rhinos, who are part of Africa's big five species. In Kampala/Entebbe, your rhino tracking trip begins and ends. It allows you to see not just white rhinos but also a variety of other mammal and bird species.
The Ziwa Rhino Sanctuary is located 7 kilometers from Nakitooma, in the Nakasongola area, on the Kampala-Gulu route.
For a one-day Rhino Trekking Tour, you'll spend roughly 3 or 4 hours drive from Kampala to Ziwa Rhino Sanctuary. This stunning sanctuary spans 70 square kilometers.
Because of its convenient location, it is a perfect stopover for most Uganda safaris to Murchison Falls National Park in Northwestern Uganda.
Destination
Ziwa Rhino Sanctuary
Includes
Rhino trekking fees
Guide fees
Service of an English-speaking guide
Transportation in a 4×4 Safari Van or Land Cruiser with a pop-up roof
All activities in the travel plan except the optional ones
Bottled drinking water
Relevant government taxes
Excludes
Money for Tips
Telephone bills
Personal insurance
Flight fees
Laundry service
Optional activities
Shopping bills
Alcoholic drinks
Hotel /lodge fees after your 1 day rhino trekking trip
What to Pack on 1 day Rhino Trekking Tour
Sun hat
Safari clothes
Rain jacket
Sunscreen
Camera without flashlight
Safari shoes
About Ziwa Rhino Sanctuary
The Ziwa Rhino Sanctuary is located in Uganda's Nakasongola district, about 176 kilometers north of Kampala. This wildlife ranch is a conservation initiative led by the Rhino Fund Uganda and the Uganda Wildlife Authority to reintroduce rhinos to Uganda.
The sanctuary's rhinoceros are endangered "southern white rhinos," and here is the only spot in Uganda where you can see them in the wild.
Ziwa Rhino Sanctuary is a popular destination for not only Rhino Trekking but also Shoebill Stork Trekking, Canoe Riding, Night Walks, Nature Walks, Camping, Relaxation, and Bird Watching.
Several wildlife species, including Uganda Kobs, Bushbuck, Reed bucks, Rich bucks, and primates such as Colobus and Vervet monkeys, as well as mongoose, call the reserve home.
Gallery
Itinerary
Day 1
Rhino Trekking, Nature Walk
A delicious cup of tea or coffee will welcome you to Ziwa Rhino Sanctuary for a one-day Rhino Trekking Tour.
Later, depart from your hotel for a 3-4 hour ride on the Kampala-Luwero-Nakasongola route in a 4×4 Safari Van/Land Cruiser. To reach Ziwa Rhino Sanctuary early enough for rhino tracking with the site tour guide, take a 7-kilometer detour from Nakitoma.
On a rhino journey, you may expect to see antelopes, birds, and much more in addition to white rhinos. You will spend one hour up close and personal with rhinos, photographing them, learning about their habits, and returning from your footwalk experience.
Your guide will take you back to Kampala after that, but lunch will be provided by Kabalega Dinners. When you go to Luwero on your way back to Kampala, you can pick up some tasty pineapples and oranges. After that, drive to Kampala and be dropped off at your hotel or apartment.