1 Day Gorilla Trekking Uganda from Kigali or Kisoro Uganda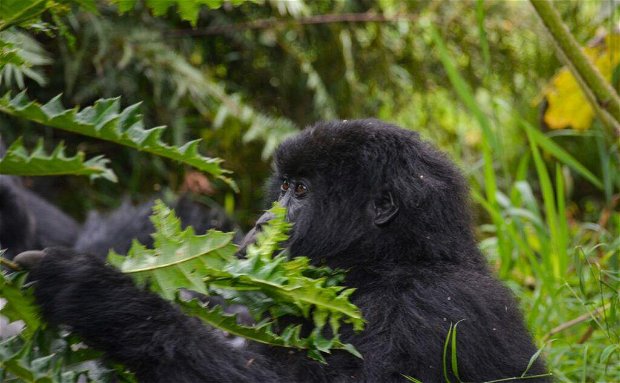 1 Day Gorilla Trekking Uganda is a unique gorilla safari package designed for primates enthusiasts who want to hike Mountain Gorillas in Bwindi but are limited on time.
Mountain gorilla trekking in Bwindi Impenetrable National Park on a one-day Gorilla Trekking Uganda Tour is designed for foreign travelers to begin and conclude in Kigali, Rwanda. This one-day gorilla trekking Uganda excursion can also be done from Kisoro, Uganda; however, if you are in Kampala or Entebbe, you will need to take an internal aircraft to catch up.
Gorilla trekking is renowned as a conservation excursion, and every gorilla permit you purchase directly supports conservation efforts. The distance from Uganda's International airport is approximately 8 hours, making a gorilla journey in a day nearly difficult.
However, with this 1 Day Gorilla Trekking Uganda tour itinerary, a gorilla safari to Bwindi forest can be completed in only one day, whether you are on a business trip or attending a conference, you can take a day off and fulfill your gorilla trekking dreams.
Destination
Bwindi Impenetrable National Park
Includes
Gorilla permit ($700)
Road trip in a 4×4 Safari Van/Land Cruiser
Lunch
Photography & touring
Fulltime English-speaking guide
Park guide fees
Bottled drinking water
All trip activities but not the optional ones
Excludes
Cigarettes
Hotel fees in Kigali after your trip
Optional activities
Souvenirs
Tipping
Telephone calls
Other drinks/beverages
Laundry services
Visa fees
What to carry on a 1-day gorilla trekking Uganda tour
Waterproof hiking boots/shores
Waterproof daypack
Camera with no flashlight plus extra batters and charger
Long-sleeved shirt
Trousers
Insect repellents
First aid kit
Sun hat
Snacks
Bottled drinking water
Socks
Sun glasses
Sweater
Rain jacket or poncho
Where gorilla treks are done in Bwindi Impenetrable National Park
In Bwindi Impenetrable National Park, gorilla treks can be started from any of the four zones, each of which has habituated gorilla families.
Nkuringo in the south with gorilla families such as Nkuringo, Christmas and Bushaho.
Rushaga region in the south consisting of Bikingi group, Kutu, Mucunguzi, Busingye, Mishaya, Bweza, Kahungye, Nshongi and Rwigi.
Buhoma sector in the North has Gorilla groups like Katwe, Habinyanja family, Mubare and Rushegura group.
Ruhija sector in the east features gorilla families like Bitukura group, Oruzongo, Kyaguriro and Mukiza family.
Some of the gorilla trekking rules to observe
A 7 meters distance should be kept away from mountain gorillas at all times.
If you are ill, you won't be allowed to track mountain gorillas
Gorilla trekking is strictly for persons above 15 years.
A maximum of 8 visitors are always allowed to trek 1 habituated gorilla family.
Upon finding a gorilla family, you will have 1 hour of magical encounters.
Don't smoke, drink or eat in the presence of gorillas.
No flashlight camera should be used when taking pictures of gorillas.
Leave the gorilla habitat as clean as you found it.
Gallery
Itinerary
Because this is a short gorilla safari with border crossings, anticipate waking up early enough to prepare, eat breakfast, and bring snacks and bottled water with you.
Meet and welcome your Africa Reveal Safaris tour guide to begin your 3- to 4-hour journey, which will take you from Katuna or Chanika to Kabale or Kisoro Town, and then to the Bwindi Impenetrable National Park offices for a 7:00 a.m. briefing on gorilla trekking rules.
The park official will finish briefing at 8:00 a.m., allocating each group of 8 trekkers to a habituated gorilla family and a park guide.
This is when you will begin navigating through the rainforest and steep slopes in search of mountain gorillas, which will take approximately 2 to 6 hours, including 1 hour when you will be face to face with these rare creatures, taking photographs, learning about their feeding habits, socialization, and much more.
Because your gorilla hike will take you through the Bwindi Impenetrable Forest, you can expect to see other primates, birds, and medicinal tree/plant species. Return to your briefing location; meet your Africa Reveal Safaris guide/driver, who will then transport you back to Kigali or Kisoro. This concludes your one-day Uganda gorilla trekking tour.